So it's not quite fall yet, but it's close. Fall and spring are my favorite seasons. I just love the transition weather. The time in fall when it's getting cool enough to sit outside and not sweat to death (oh, South Georgia), and the time in spring when it's just starting to get warm enough to wear flip flops. This weather makes me happy.
I decided to join Janel's new journal class, I heart Fall.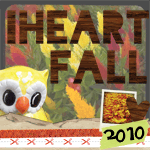 I'm really excited about it. I, um, still have a few pages left to finish from the last class. I got the puppy and kind of lost my steam for journaling. I am hoping this class kick-starts it again. I definitely had fun shopping for fall papers and designing the cover. I absolutely love it.
And the first page:
With the covers open:
Love it, and can't wait to start the class!
And just for fun, here's a picture of Peri from this afternoon.
She's adorably insane.